What we serve:
First, we have all the sizes available. In the case of the A4 Flyer, the standard size is 21 × 29.7 cm (3″ x 11.7″ inches). But if you need A2, A3, A5, A6 or if you want Custom sizes in Flyer, we can do this as well. All you need is to make an inquiry about that.
In paper thickness or weight, we have 100 GSM, 135 GSM, 150 GSM, 170 GSM, 200 GSM, 250 GSM & all others.
In Flyers, we deal in Matt Paper & Art Paper.
Benefits of A4 Flyer Printing
A4 flyers are perfect for promoting products or services, hosting events, and posting information about your organization.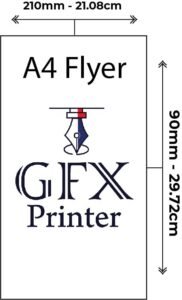 They're affordable, easy to create and distribute (in high-traffic areas, like near grocery stores or gas stations or leave them with local businesses, like cafés, barbershops, and hair salons, you can also put them in mailboxes or leave them on doorsteps).
A4 Flyers are a great way to get your message out to a large number of people. A4 flyers are useful for many different kinds of businesses and organizations. For example, resta
urants can use them to let customers know what's on the menu for the day. Retail stores can hand them out to custo
mers and post them in the windows. In today's marketing environment, where attention spans are short and consumers are bombarded with advertisements, creating an effective marketing campaign can be challenging. However, one of the best ways to get your message out to a wide audience is by distributing flyers. Flyers are an excellent way to promote your business or products to a wide audience.
Professional Tips: How to Create an Effective A4 Flyer?
An effective A4 Flyer design based on the target customers. For example: If you want to appeal the customers between the ages of 25-35, you have to design the A4 Flyer accordingly.
Keep the A4 Flyer simple. — Keep The Design Simple: A well-designed A4 Flyer uses simple designs and avoids using too many colors. Too many images and colors may confuse customers. Keep your A4 flyer design simple and easy to read. Don't try to fit too much information on each page, or it will become too cluttered.
An effective A4 Flyer is one that is easy to understand. — Use Legible Fonts: The fonts on the A4 Flyer are as important as the images used in the design. Use fonts that are large enough to be read from a distance. If you use a small font, it will become harder for your customers to read.
Avoid using fancy or decorative fonts as they are difficult to read. — Choose The Right Paper: The paper used to print the A4 Flyer can make a big difference in the appearance of the design. The high-quality paper will make the A4 Flyer look professional.
Keep it eye-catching – Make sure your A4 flyer stands out from everything else. You want it to catch people's attention so they'll pick it up and take a look.
Guidelines for acceptable A4 Flyer ready-to-print Finished Artwork Design files:
A4 Flyer should have a 2 mm bleed required over the finished print size.
All Fonts should be turned into paths.
Design must be in CMYK or can be in grayscale (but Pantone, PMS, RBG or Spot colors are not acceptable)
The transparency in the A4 Flyer effect must be flattened.
Images must be in 300 dpi.
What to include in your A4 Flyer?
Contact information – Make sure your customers can easily get in touch with you. Include your address, telephone number, and website address.
Image – An image or photo helps draw attention to your A4 Flyer. Choose a photo that is eye-catching and relevant to your product or service.
Company Information – In addition to your contact information, you can also include your company's name, slogan, and logo.
Specials and promotions – Briefly list any sales or promotions currently going on at your business.
Specialty – Include your company's specialty, so customers know what you do. You can also describe the services offered at your business.
A reasonable variation in color between the original sample/proofs and the completed job will be considered acceptable print quality.
There may be some color variation between what the client sees on screen and what the final product looks like. There will be no reprints at the supplier's expense due to color variations.
FAQs
If you have some questions or want to contact us then you can contact us on WhatsApp or Call us on +971562271600
What are the A4 size dimensions for flyers?
For A4 Flyers, the standard dimensions are 210 mm × 297 mm (3″ x 11.7" inches), & along with the dimension the design must have a 3 mm bleed to each side of the flyer. More information about how to setup bleed?
When should I use A4 flyers?
A4 flyers should be used when you're looking to promote a business or service with some extra information: this could be a new location, a special promotion, or a change of contact details.
You may also use flyers when trying to spread awareness about a cause or inviting people to attend a public, large-scale event.
Can I print on both sides of an A4 flyer? 
Yes, you can! With GFX Printer you can print your Flyers on Both sides in the best Quality.
Can I upload my own design to an A4 flyer? 
Yes Indeed! As we encourage our clients to Design themselves or by their Designer. Although, we also have designers, who can design as you want. If you are getting issues, we're always happy to help you.
Wrapping Up
A4 Flyers are a great marketing tool for businesses of all sizes to promote their products and services. People can pass them out at events, leave them in public places, or send them through the mail. They are a great way to get your message out to a large number of people. Flyers, unlike other marketing tools, are intended to be thrown away after use. They don't work if they're kept. They work if they're distributed and seen by as many people as possible. Likewise, they work if they're in people's hands when they make buying decisions when they decide where to eat, what movie to see or when they need a new hairdresser or plumber. It will help you get more customers and increase your sales.